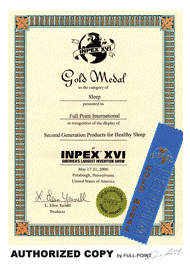 BRUSSELS EUREKA 1994
At 43° world exhibition of invention, research and industrial innovation, the patented Full-Point winning two gold medals, the first for the bio-device which protect the body during rest and the second for the instrumental set geobiologico: Hartmann Scanner.
INPEX XVI 2000
The 16th edition INPEX the largest show in the United States' America for inventions in Pittsburgh, Pennsylvania was presented the second generation bio-device Full-Point by winning the gold medal.
INTERNATIONAL EXHIBITION of INVENTIONS GENEVA 2003
At the international exhibition of inventions in Geneva 2003 introduces the security system for driving BIODRIVE and won the silver medal.