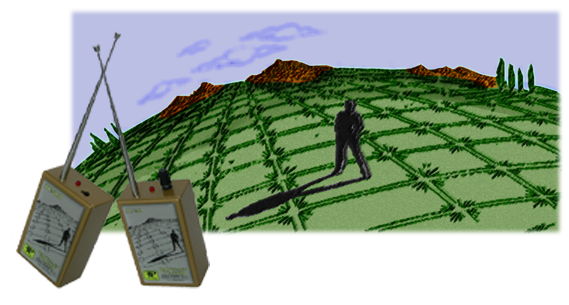 This is a kit of two instruments made by Full-Point Corporation based on original patterns dictated by Dr. Hernst Hartmann to locate the lines that make up the network of Hartmann and its crossings both indoors and outdoors.
These two tools are designed to work in pairs.
The first: Sounder means that the energy potential of the environment that we analyze both tuned for this type of reading with a launch base.
The second: Sonar the detection of two frequencies will beep volume and continuity vary depending on the intensity and breadth of the crossing or the location of Hartmann's line detected. Lines and crossings are detectable in three dimensions. Horizontally (North-South/East West) and vertically in the direction the earth ionosphere.
The particular sensitivity of this kit, required special attention in isolation from outside influences during detection, especially in closed environments where there is a greater amount of noise. For this reason the bodywork of these tools is protected by a special shielding polymer paint which guarantee the result. The power supply is 9 volts, preferably with rechargeable battery.